Special Education Acronyms, Initialisms & Abbreviations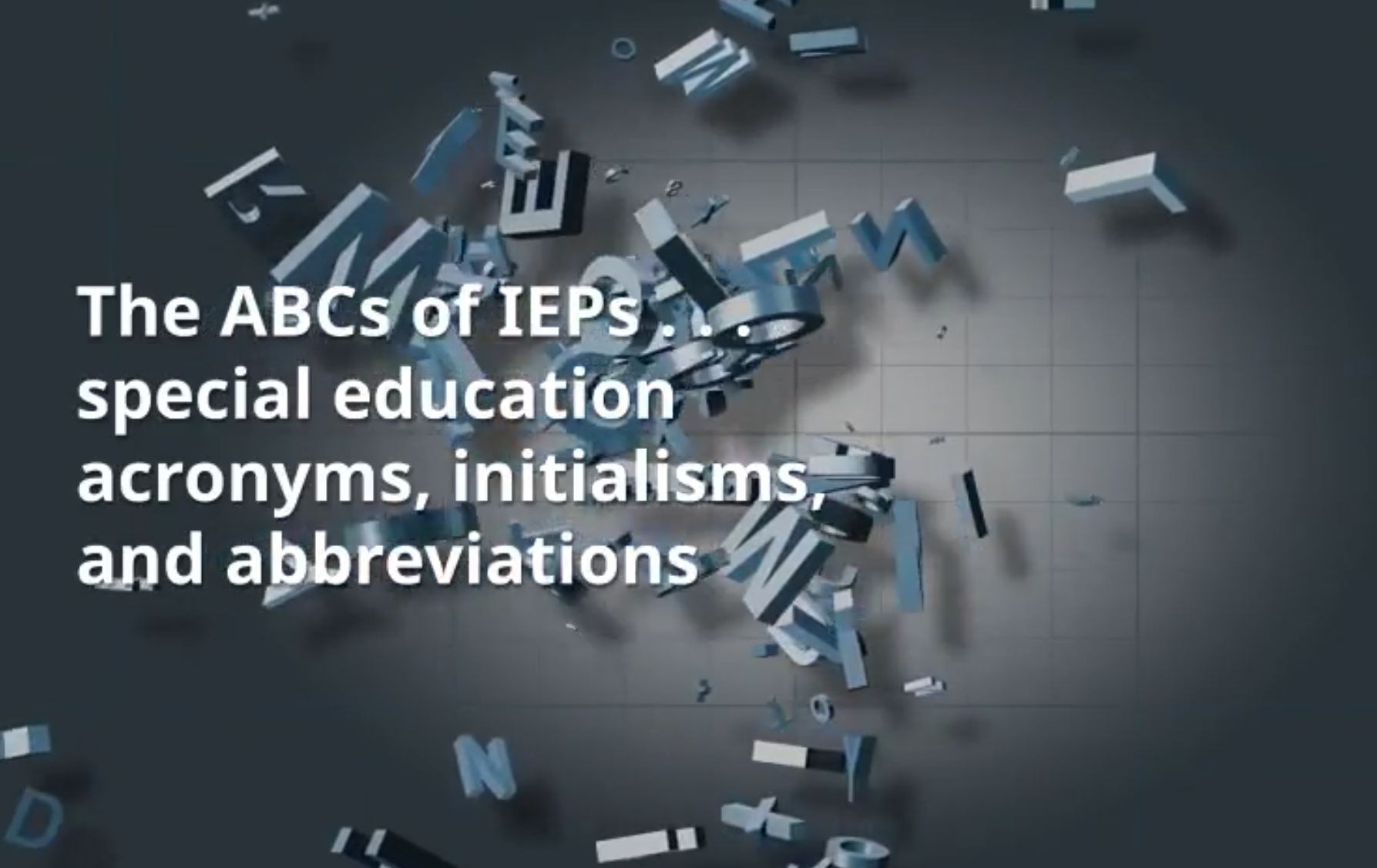 The ABCs of IEPs – special education acronyms, initialisms, & abbreviations
Acronyms, initialisms, and abbreviations . . . it can all be a bit confusing. In the world of special education there are a lot of acronyms, initialisms, and abbreviations that are important to know, if for no other reason than to keep up with the conversation. You don't want to miss the substance of what is said at an IEP meeting because your brain is busy trying to decipher the meaning of the letters being tossed about like they are common sight words. It is helpful to become familiar with the lingo.
For those of you who appreciate the nuances of language, I'll quickly share that according to the strictest definition, only abbreviations that are pronounced as words qualify as acronyms. For example, IDEA is an acronym. Abbreviations that shorten a phrase by using the first letter of each word are initialisms. IEP is an initialism. Sometimes initialisms are also acronyms; such as FAPE. The list below is not completely exhaustive, but they are the abbreviations parents are most likely to come across.
ABA: Applied Behavioral Analysis
ABC: Antecedent, Behavior, Consequence
ADA: Americans with Disabilities Act
ADHD: Attention-Deficit Hyperactivity Disorder
ADLs: Activities of Daily Living
ALJ: Administrative Law Judge
APE: Adaptive Physical Education
ASD: Autism Spectrum Disorder
ASL: American Sign Language
AT: Assistive Technology
AYP: Adequate Yearly Progress
BIP: Behavioral Intervention Plan
BOE: Board of Education
CAPD: Central Auditory Processing Disorder
CST: Child Study Team
DB: Deaf/Blindness
DD: Developmental Disability
DOE: Department of Education
DSM: Diagnostic and Statistical Manual of Mental Disorders by the American Psychiatric Association
ED: Emotionally Disturbed
EI: Early Intervention
ESY: Extended School Year
FAPE: Free Appropriate Public Education
FBA: Functional Behavioral Assessment
FOIA: Freedom of Information Act
HI: Hearing Impaired
HoH: Hard of Hearing
I&RS: Intervention and Referral Services
IEP: Individualized Education Program
IFSP: Individualized Family Service Plan
LD: Learning Disability
LEA: Local Education Agency
LRE: Least Restrictive Environment
MD: Multiply Disabled
MDR: Manifestation Determination Review
OCD: Obsessive-Compulsive Disorder
ODD: Oppositional Defiant Disorder
OHI: Other Health Impairment
OI: Orthopedically Impaired
OT: Occupational Therapy
PLAAFP: Present Level of Academic Achievement and Functional Performance
PLoP: Present Level of Performance (replaced by PLAAFP)
PT: Physical Therapy
RTI: Response to Intervention
SEA: State Education Agency
SEPAC: Special Education Parent Advisory Committee
SLD: Specific Learning Disability
SLP: Speech/Language Pathologist
TBI: Traumatic Brain Injury
If you have questions about Special Education Law in New Jersey, Lori E. Arons, Esq. is available to help. Contact Lori today by calling 201-388-9533 or using the Contact Us form.